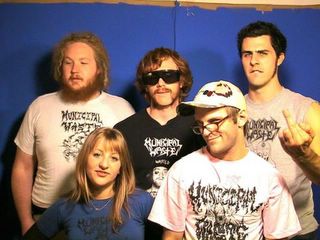 Crazed Virginia synth-punk band VCR is playing tonight at O'Leavers. As far as I know, the band only has one EP released so far. I love the record. I have been playing the crap out of it on my radio show for weeks. I've been telling people that VCR is like Devo on steroids. You can hear some of the band's music on their MySpace page. Tonight's show is competing with

Little Brazil

at Sokol Underground. I've seen LB a couple of times recently, so there's no real dilemma from my perspective. The band just secured a number of spots opening for Tegan & Sara, so that's a major break for them. If you don't live in Omaha and know the whole history of the band (frontman Landon Hedges was in Bright Eyes, Desaparacedos, and The Good Life), that may be your first opportunity to see the band.

Last night's Pinback show was pretty weak. The band sounded fine and all, but they were just not that interesting on stage. The crowd seemed to like it. The place was packed to the gills, and nobody was leaving early. From my vantage point, though, the show was a snooze fest. Still, I highly recommend their album,

Summer in Abaddon

. I'm hoping I get a second wind sometime tonight because right now I am super beat from two nights in a row of shows. I think I will pull it off, though. I have confidence in myself!