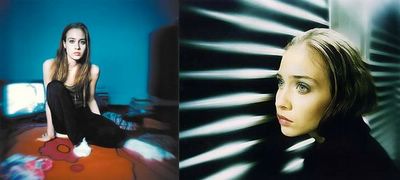 Someone is taking a pre-emptive strike in the war between

Fiona Apple

and

Sony Music

. Rumors of a completed third

Fiona Apple

album have been circulating for two years. In the Spring of 2003,
Billboard
reported that Fiona was hard at work, and the record would be out in July of that year. Clearly that didn't happen. Now the story is that the record is done, but Sony refuses to release it. They don't hear a "single." Sound familiar? Due to Apple's past commercial success (both of her previous albums have been certified platinum), Sony does not want to let her go. They want her to "fix" the album. Appropriately, Fiona will not alter her music to appease record execs (the ones who still view as some sort of teen pop tart). There are five new songs posted here. I can only get three of them to work. They sound pretty interesting. Apparently, some radio stations have decided to go ahead and play the songs on-air. I think I may do that as well.



Fiona Apple

has a tremendous amount of talent, an excellent voice, and a unique lyrical perspective. I have been waiting for some new music from her for a while (her last album,

When The Pawn...

was released in 1999). Some fans have started the Free Fiona campaign to get Sony Music to release her from her contract. I have always had a little "thing" for Fiona Apple, and I'd like to see her back in the public eye.